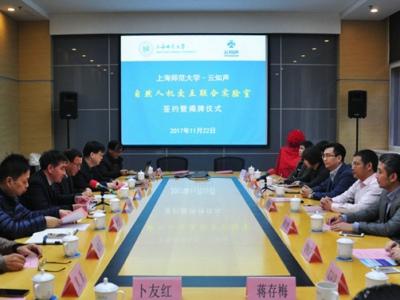 SHNU: The HCI (Human Computer Interaction) collaborative lab, cosponsored by SHNU and Shanghai Yunzhisheng Intelligent Technology Co., ltd was founded recently. The ceremony was held at SHNU Conference Center on November 22nd. It was attended by Vice President of Scientific Association of Xuhui District, SHNU Vice President Jianhua Gao, and other representatives from Yunzhisheng company, as well as scholars from SHNU College of Music and SHNU College of Humanities and Communications.
The lab would focus on key technologies of artificial intelligence, particularly intelligent speech signal processing. In Recent years, Yunzhisheng company has pioneered in such fields as speech signals, language identification skills, information computation and big data analysis, etc. It has been included into the list of 50 fastest-developing companies.
The CTO of Yunzhisheng also delivered a speech on information technology and industrial reforms.
---