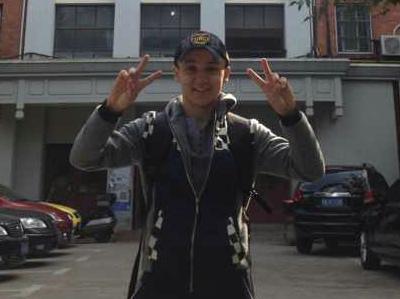 I am Bahrom from Tajikistan in Central Asia. I've been here since last September to study Chinese in ICCS of SHNU for one year.

My first impression of Shanghai when I'd just found myself at Pudong airport was a little bit shocking. There were too many people around me, the airport itself seemed gigantic for me then and it contrasted drastically with all I used to in my own country. My first trip around Shanghai, when I had to get to Shanghai Normal University from the airport turned out to be a small adventure. While getting to the university I had a chance to get acquainted with Shanghai subway which really impressed me by its scale, convenience, modernity and cleanness. I also had the first opportunity in my life to talk to Shanghai taxi driver. The one who was taking me to the university appeared to be not very friendly actually, but anyway he got me to the right place and I'm grateful to him for this. After I finally reached the university I tried to recollect all Chinese words which I knew for that time and asked the guys from security who were standing at Xibu entrance gate, where I had to register. Firstly they directed me to the wrong place and it took a while until I finally found the place I needed: International Students Center.

Talking about International Students Center particularly, I must mention that it's a cozy place where it's pleasant to spend time reading book, doing home task or simply talking to other students from all over the world. The fact that this place is provided with free internet and all necessary things to have a rest makes it really attractive.

I also can't help mentioning about Xuhui campus where I live and study. It's very comfortable and provided with a lot of sport facilities like soccer stadiums, basketball playgrounds and gyms which is quite important for me since I have an opportunity thus to keep myself in shape.

Despite the fact that I don't have a lot of Chinese friends as yet, I can say that my general impression of Chinese people is following: the vast majority of those who I have encountered are extremely helpful and affable, they are always ready to help you. My first day at the university, by the way, I was accompanied by a Chinese girl who showed me the campus, my future dormitory, canteen and other places which it's necessary to know about. Now I have some Chinese friends and one of them helps me with Chinese while I'm helping him with Russian language. I believe that such kind of lingua-cultural interchange is very important and useful for both of us.  It's more over important since it's impossible to learn language only in the classroom.

Learning Chinese here in SHNU is quite different from what I used to in the university of my native country. I got used to a lot of subjects which filled my day from morning to evening sometimes and here I only have 3-4 hours of classes per day which was making me a little bit disappointed firstly cause I had too much free time. But then I realized that it's a good lesson for me to become more self-reliant and serious for I don't have people to make me study any more, but have to study by myself. I came here to China to increase my level of Chinese and obtain skills which are necessary for translator. Now I feel that studying and living here at SHNU gives me a great opportunity of self-development. Initial feeling of internal emptiness causing by parting from my family and putting in absolute different reality for me is gradually giving way to enthusiasm with which I'm trying to improve myself in all spheres of life.

My scholarship finishes in July but I'll definitely do my best to come back here again to obtain master's degree. I believe that my current studying Chinese in ICCS is only the first step which will help me to continue my education at SHNU in future.

(Reported by Vadym Koziashev)
---