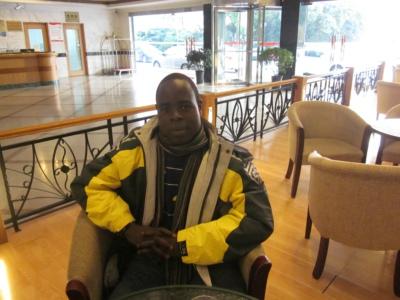 SHNU: My name is Simon Nandwa and my Chinese name is Anji. I come from Kenya. After leaving high school I applied for a scholarship to study in China and I succeeded, ending up in studying in Shanghai Normal University. Before coming to China, I had little knowledge about this university; but when finally live and study here I feel as if I was born in China. I enjoy my study here and I almost have a crush on Chinese food. I would like to share something about my study and daily life here with others.
In the first year in China, I had elementary Chinese courses. They are oral Chinese, Chinese reading and writing and pronunciation. It is not easy for me to pick up a new language at this age, but I do find learning Chinese interesting. There are 27 students in my class, and everyone has chances to participate in class activities. All of us are quite familiar with each other and cherish our friendship. We have an ideal class environment. In all the classes, the course of reading and writing is my favorite. Our teacher always explains every point clearly and we would always harvest a lot. Pronunciation is the most difficult as we have no idea about tones in English. But whenever I make a progress, I feel it's rewarding.
Beside study, sports is an important part in my daily life. Usually I would do exercise on the playground with my friends. We would run and play football there. Campus life is never boring. Chinese food is also fascinating for me! I am enchanted by noodle, rice and all kinds of Chinese snacks. In my spare time, I also travel around. China is such an exotic and mysterious country waiting for me to explore.
Study in China is the most exciting experience for me. I feel as if China is my second hometown.
Reported by Shao Suya
---