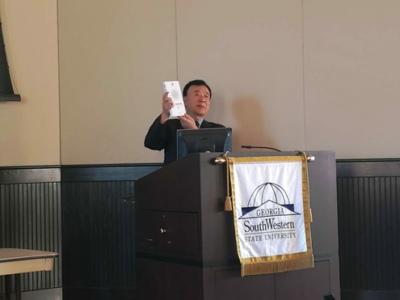 SHNU: The CCBMS (Center for Chinese Bie-Modern Studies) affiliated to GSW (Georgia Southwestern State University) cosponsored with IAAE (Institute of Aesthetics and Aesthetic Education) of SHNU to host an international academic symposium themed Premodern, modern, postmodern and Bie-modern arts in the city of Americus, US on October 5th. It was hosted by Dr. Lynda Lee, Vice President of GSW, who delivered a welcome speech and stressed the importance of international academic research and cultural exchanges and cooperation among universities.
Meanwhile, a Bie-modern Arts Works Show opened at James Carter Gallery and received warm welcome from local audiences.
A series of arts works of Bie was displayed, as well as the strengths of their creative capacities.
It is noted that this is the first time that such a conference was held since Jianjiang Wang, professor of SHNU College of Humanities and Communication, brought up this theory of Bie-modern arts, and the 4th conference of its kind globally. The next Bie-modern international symposium would be held at SHNU in October, 2018.
---